Patient Education
We find that patients are more comfortable when they know what to expect on each step of a proposed treatment. As 65% of all learning is visual, we offer a three-dimensional animated presentation of all major periodontal and dental implant procedures. This computerized presentation (known as Consult Pro), has become a valuable aid in patient education.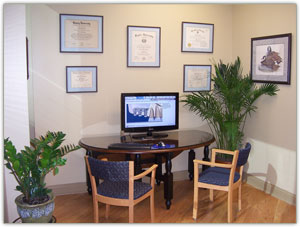 Our goal is that you are completely informed concerning your condition and any treatment that will be performed.
Patient Safety
We adhere to the highest professional standards of cleanliness, sterilization, and radiation control. Our staff regularly attend safety seminars and are quite knowledgeable on the latest techniques.
Sterilization
We know that preventing the spread of infectious diseases such as AIDS, herpes, hepatitis and even the cold virus is critical. We use extensive sterilization procedures, going well beyond the guidelines recommended by the American Dental Association and Centers for Disease Control.
We use barrier techniques such as disposable masks and gloves and replace them with every new patient. Each piece of fixed operatory equipment is wiped-down with antibacterial solution prior to every clinical procedure. Sterile water delivery systems are utilized. We use autoclave sterilization for all instruments prior to dental examination and treatment. You can be assured that our staff have been specifically trained on sterilization procedures and their importance.
Pre-medication
Patients with certain medical conditions (e.g. valvular heart conditions and artificial joints) may be asked to pre-medicate with antibiotics prior to treatment. We do this with your safety in mind. Please inform us if you have a condition that might require pre-medication.
Post Treatment Instructions
After treatment, home care and medication instructions will be thoroughly explained. For your convenience, you will also be given printed instructions. Of course, we are always available for questions after treatment.
Patient Comfort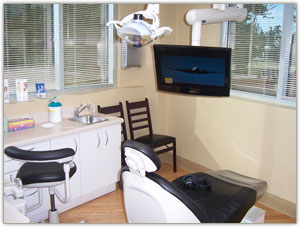 We go to extraordinary lengths to ensure our patients are as comfortable as possible during dental procedures. Please click here for more information on this topic.
In addition, for your convenience, we offer:
Headphones with a wide selection of music
TV in our operatories
Special Equipment
We strive to stay on the leading edge of periodontal techniques and equipment. In order to do this, we take a great deal of continuing education. We also utilize advanced equipment in our office.This includes:
Magnifier Loops
You have probably seen a Magnifier Loop in a jewelry store when the jeweler was closely examining a diamond. Dental Magnifier Loops are made for periodontists to view your teeth and gums in minute detail during periodontal procedures. Dr. Cherry uses periodontal loops in many procedures to ensure more precise treatment.

Low Radiation Digital X-Rays
Digital X-Rays are taken with very low radiation and have more flexibility in terms of rendition. They are also more convenient when planning treatment with your general dentist.

Panoramic Radiography
Panoramic Radiography (Panarex) is an advanced full-mouth x-ray that allows a full "panoramic" view of your teeth. This type of x-ray is often necessary in the diagnosis of dental implant placement and comprehensive periodontal therapy.

Advanced Dental Implant Placement
Recent advances in dental implant technology and bone regeneration allow trained periodontists to place dental implants anchoring dentures and partials immediately. Single tooth implants can also be restored immediately in a number of cases. Dr. Cherry is trained and qualified to perform these procedures.


Advanced Periodontal Cosmetics
There are now many more periodontal procedures to enhance the appearance of your teeth and gums. Teeth that look short due to gum tissue can be lengthened and teeth that appear too long, giving a prematurely old look, can be corrected with gum grafts. 

Surgical Stents
A surgical stent is a small, hollow tube that is inserted into a blood vessel to keep the walls of the vessel open. They are sometimes needed to aid the success of dental implants, or implant supported dentures or bridges, by allowing for proper blood flow to the site.


CT Scans
CT scanning is an x-ray imaging technique that has become the new standard in surgical planning. It can image both hard and soft tissues, and creates precise 3-D models of the structures.


Computerized Charting
Digital charting is a efficient means of tracking a patient's dental history. It also provides high-quality visual aids for patients to view changes in their dental health. Rather than relying on general charts and models, the periodontist can explain the diagnosis and treatment options using specific information.


i-CAT® In Office CAT Scans
A key to dental implant safety and success is advanced radiography. I-CAT® digital CAT scanning allows us to take 3-Dimensional, high resolution CAT scans of your facial anatomy. We can then view these images from different angles, take precise measurements, and easily share 3-D data with other doctors. A CAT scan ensures that every possible precaution has been made to reduce the risk of involvement of the nerves in the lower jaw, and the sinuses and nose in the upper jaw.

The i-CAT®'s scans are also used for bone reconstruction, bone grafting, TMJ evaluation, airway management and pathology detection.

Until recently, CAT scans were only done in hospitals or medical facilities. Our office is one of the very few in the United States with the latest in digital CT scanning, the i-CAT®.

The i-CAT® is ideal for patient comfort. It offers an "open-environment" design that reduces anxiety, and images can be taken in as little as 20 seconds, limiting discomfort and exposure to radiation. For more information about i-CAT® imaging, please click here.

SimPlant Pro Version® - Computer-Guided Implant Placement
Correct implant placement maximizes safety, longevity and the cosmetic end result. Precision implant placement begins with a CAT scan that must be extensively analyzed. Prior to the i-CAT®, a cat scan was done at a medical facility and then sent to an analysis facility. 


The SimPlant Pro Version® is a computer system that automatically analyzes i-CAT® information and provides exact placement perimeters for optimum results. This advanced system gives immediate guidance as to the exact size of implant needed and the ideal placement location. Case planning between Dr. Cherry and your restorative dentist can then be done.

Additionally, the SimPlant Pro Version® analysis can be immediately sent to our dental lab who will use it to manufacture a surgical guide. Implant placement becomes completely computer-guided eliminating any possible surgical error.

Thomas D. Cherry, D.D.S., M.S.D.
Practice Limited to Periodontics and Dental Implants
Tel: (770) 619-9929 • Fax: (770) 619-9932
4165 Old Milton Parkway, Suite 190 • Alpharetta, GA 30005
Contact Us
•
Directions